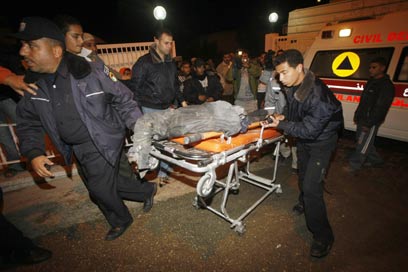 One of the casualties of the airstrike
Reports
are just coming in that all convoy members have been escorted to the airport in Cairo and are facing de facto deportation and black-listing. There were fears for their safety last night after reports emerged from Gaza that Israeli air-strikes had struck up to seven locations in the Gaza Strip.
The attacks killed three Palestinians, including a 14-year-old boy, and wounded two others. Palestinian medical sources named the dead as Abu Heesh Odai (14), Naser Al-Mahmum (22) and Barakat Abu Shalouf. All three were reportedly killed when missiles hit two tunnels near the Rafah crossing with Egypt. These tunnels provide a life-line for Gazans who have faced an Israeli-imposed blockade for the past three years.
Three sites near Gaza City and two near the southern town of Khan Younis were also hit by missiles, striking empty buildings and open spaces, according to witnesses and Hamas officials. One missile struck near a school, another landed close to a sports club and another hit a building in the An-Nuseirat refugee camp in Gaza City.
In the wake of the attacks, the members of the Viva Palestina convoy were told by Egyptian authorities that they must leave Gaza. The convoy members, including all the Irish participants, complied with this request – with the exception of Caoimhe Butterly who has elected to remain in Gaza to continue her humanitarian work.